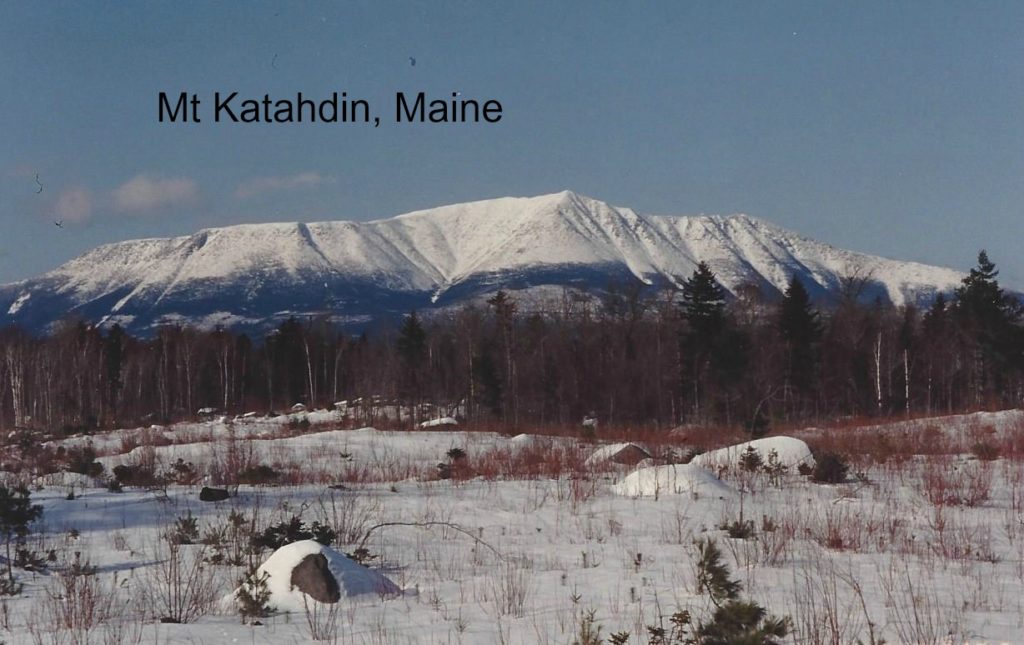 The Katahdin Metaphor
"To focus on disappointment brings us to the edge of depression, but to focus on the good brings us to the mountain of hope."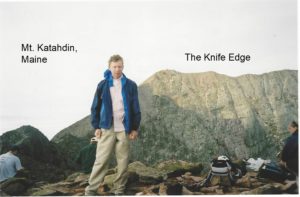 My forefathers for generations have climbed Mount Katahdin. My dad, grandfather great grandfather and more I imagine. I have an old photo somewhere of my grandfather and grandmother on the top of the mountain. I made a climb several years ago. We went up the Helon Taylor trail from Roaring Brook to Pamela summit across the knife edge trail to Baxter peak, down the saddle trail to Chimney pond and finally back to Roaring Brook. It was an unforgettable 12 hour experience.
Our walk through life may at times resemble a journey up a mountain. To begin we need a "vision" of the goal ahead. Can you see it? Can you smell the victory?
As we start our "climb " the trail is not too steep and is full of trees and greenery. Enjoy the beginnings. Begin to learn the trail and get "warmed up" for more challenges ahead. Learning, growing, preparation. Have we "prepared" for what is ahead? I consulted maps, planned which trails to take. I also, bought a one gallon bladder for my back pack. I filled it with Shaklee's "Hydrate Plus Performance" drink. This was specially formulated for the "Daedalus human-powered aircraft".
https://www.fai.org/news/thirty-years-longest-human-powered-flight-history
The MIT Aeronautics and Astronautics Department's Daedalus was a human-powered aircraft that, on 23 April 1988, flew a distance of 72.4 mi in 3 hours, 54 minutes, from Iraklion on the island of Crete to the island of Santorini. The flight holds official world records for total distance, straight-line distance, and duration for human-powered aircraft. Kanellos Kanellopoulos, a Greek cyclist, used a specially formulated drink developed by the Shaklee Corporation to fuel his flight. It contains short, intermediate and long term carbs for sustained power. As I climbed the mountain I used this drink. I never "hit the wall", never ran out of energy. I still use it today when I work outside or jog. Do you have the "energy" and strength for your climb? For your goal? Do you need to start exercising?
As we continue we come to various stopping places, brief points or plateaus to rest and take in the views. Short periods to reflect and regroup for what lies ahead. A blessed rest before your ascent to the top. (On the Abol trail you will hit the "plateau" rather soon, before the knife edge). Enjoy the moment on the plateau or your outcroppings, and celebrate the climb you have already accomplished, but don't lose sight of the peak that is still before you. Without proper rest and relaxation we will burn out. Too much rest and we rot.  After lifting weights it is the rest that builds our muscles.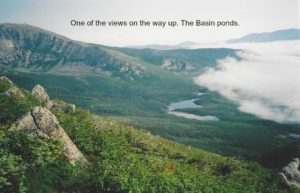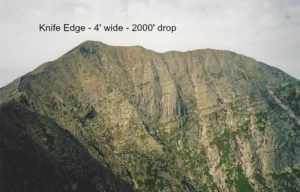 Your continued climb may take you through difficult territory. Perhaps it is a narrow path with a precarious drop on both sides. (2000 foot drop) But one step at a time will get you across. Focusing on each step that lies before us is essential. Crossing the knife edge reminds us of the importance and the power of focus. We can accomplish great things when we have focused, consistent, urgent and relentless effort.
We reach the peak. What a feeling of accomplishment! We take a moment to enjoy the view, rest and relax. What have we learned up to this point? We need a "weekly review". We need to reflect and continue to plan on a regular basis.  Can we use what we have gone through to inspire and help others? But, we cannot linger too long as the trip down will take a while and we want to continue our progress to reach our destination before dark. We may ascend several "peaks" in our hike through life. After each accomplishment we must plan for the next phase, the next goal. What we really need to avoid is "drifting" without any real goal or path. Many climbers have gotten into trouble for going off the path or just wandering around. On the climb of the mountain of life it is equally disastrous. We will never reach out goals if we wander aimlessly. Stay on the path.
The climb is worth the extreme effort. It gives us a perspective that few other people will ever see. Only those who take the time and effort to do what may seem "impossible" will gain the experience and perspective to ascend new heights in the future. It is then we can enjoy what others will not because we have dared to do what others did not do. Dare to dream "big", be "bold".
You might think the journey down will be easy. You say, "it is all downhill, how hard can it be?".  The journey off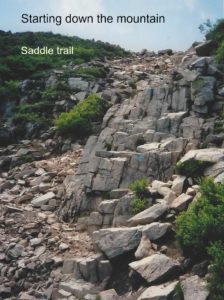 the peak, the downhill phase, brings its own unique challenges. Climbing down over boulders is different from climbing up over them. When you get down your knees will feel the pain, as it is hard on them. Our journey down through the second part of life will also hold its challenges. We need to be flexible enough to refocus our strategies when conditions change. Take it one step at a time. Stay focused on new goals. Focus on the wonders you have seen and experienced. Live a "gratitude focused" life.
What shall we call this focus on the good? We shall call it "gratitude" for gratitude is the celebration of good. This is a matter of choice. We can choose to see the depressing, the bad, the tragic. Or shift our perspective and focus on something higher.
Now, we are free to choose poorly, but we are not free from the consequences of those choices. Does our past loom before us or the future. It is sometimes good to gaze back at the past but we cannot ascend to the peak looking backwards.
Our past (however exciting or painful) can provide a perspective that propels us onward or pulls us down.
It is a matter of choice.
Choose wisely.
9 Life Lessons
Vision.  Is your vision, your goal clear? Is it big and bold enough? Do you have a deadline, a time? This was our appointed day and we had to return before dark.
Preparation. Did you count the cost? Did you make adequate preparations? What are your resources? I needed maps, back pack, a one gallon bladder and tough boots.
Energy. Do you have the strength, the energy? Do you do your aerobics and strength training? Eat the right foods? Take quality food supplements? For more information about the "Shaklee Hydrate + Performance" click this link
Relaxation and rest. Do you know how to de-stress? We took a few well deserved breaks. What do you do on a regular basis to rest?
Focus. There is great power in focus. I assure you as I climbed over the rocks on the knife edge I was focused. No distractions there. Can we carry this over into my everyday life? Focus, Consistency, Urgency and Relentless action are powerful!
Reflect, review and celebrate. After reaching the peak it was time for a brief celebration. Take time once a week to do a post-analysis, a review of how your week went. Celebrating the victories and learning from what didn't go as planned.
Stay on the path. On mt. Katahdin straying from the path can be very dangerous to both you and the fragile alpine tundra. Stay the course. Don't quit, or give up. Don't let anyone steal your dream.
Perspective. The view from the top is a very different perspective. The 95% will never see it. Be in the 5%. Plan to put yourself in places and situations that can widen your perspective. Consider the big picture in your planning. There is so much more motivation in building a cathedral than there is in merely laying bricks. The difference is perspective.
Gratitude. Build a gratitude focus into every day of your life. It is transformative.
Yours for:
Health, hope, fitness, freedom
David Jones
Facebook Comments